ACTUALIZACIÓN DE LA EXPERIENCIA DE CIRUGÍA ESTEREOTÁCTICA ENTRE LOS AÑOS 2000 Y 2022 EN EL HOSPITAL MILITAR CENTRAL, BOGOTÁ, COLOMBIA
Palabras clave:
Estereotaxia, cirugía estereotáctica, complicaciones
Resumen
RESUMEN
Introducción
La cirugía estereotáctica es una técnica quirúrgica que en pacientes seleccionados permite la realización de procedimientos más precisos y menos invasivos, en comparación con la cirugía convencional, disminuyendo el riesgo de lesiones en áreas elocuentes.
Metodología
Se realizó un estudio descriptivo retrospectivo de corte transversal en el cual se revisaron las historias clínicas de los pacientes mayores de 18 años intervenidos quirúrgicamente por medio de cirugía estereotáxica entre enero de 2000 y junio de 2022 en el Hospital Militar Central (Bogotá, Colombia)
Resultados
En el periodo comprendido entre enero de 2000 y junio de 2022 se encontraron un total de 137 pacientes intervenidos por medio de estereotaxia con objetivos diagnósticos y terapéuticos de los cuales 50 son mujeres y 87 son hombres, con una tasa de morbilidad de 3,64%, mortalidad de 0,72% y un rendimiento diagnóstico de 98,4%.
Conclusiones
La cirugía estereotáctica es una técnica quirúrgica que permite procedimientos diagnósticos y terapéuticos con un amplio margen de seguridad y un buen rendimiento diagnóstico. En el presente estudio se encontraron tasas de complicaciones similares a las reportadas en la literatura mundial.
Citas
Gildenberg P, L: Stereotactic Surgery –T he Past and the Future.
Stereotact Funct Neurosurg 1998;70:57-70. doi: 10.1159/000029599
Duarte Mora DP, Palacino Domínguez PV, Rojas Romero LO. Stereotactic
surgery experience between the years 2000 and 2020 at the Central Military
Hospital, Bogotá, Colombia. Arch Neurocien [Internet]. 2022 May 26 [cited
Jan. 24];27(3). Available from:
https://archivosdeneurociencias.org/index.php/ADN/article/view/344
Bernstein M, Parrent AG. Complications of CT-guided stereotactic biopsy
of intra-axial brain lesions. J Neurosurg. 1994 Aug;81(2):165-8. doi:
3171/jns.1994.81.2.0165. PMID: 8027795.
Sampath R, Wadhwa R, Tawfik T, Nanda A, Guthikonda B. Stereotactic
placement of ventricular catheters: does it affect proximal malfunction rates?
Stereotact Funct Neurosurg. 2012;90(2):97-103. doi: 10.1159/000333831. Epub
Mar 2. PMID: 22398576.
Leu, S., Halbeisen, F., Mariani, L. et al. Intraoperative ultrasound-guided
compared to stereotactic navigated ventriculoperitoneal shunt placement:
study protocol for a randomised controlled study. Trials 22, 350 (2021).
https://doi.org/10.1186/s13063-021-05306-5
Chow F. Brain and Spinal Epidural Abscess. Continuum (Minneap Minn).
Oct;24(5, Neuroinfectious Disease):1327-1348. doi:
1212/CON.0000000000000649. PMID: 30273242.
Navarro-Olvera José L., Aguado-Carrillo Gustavo, Vintimilla-Sarmiento
Juan D., Parra-Romero Gustavo, Guartazaca-Guerrero Mario S., Carrillo-Ruiz
José D.. Concordance and diagnostic yield of stereotactic biopsies for posterior
fossa: Technique and experience in a reference hospital. Cir. cir. [revista en la
Internet]. 2022 Ago [citado 2023 Ene 24] ; 90( 4 ): 433-438.
Zorro O, Ordóñez Rubiano ÉG, Camacho JE, Tschampel Garvin A, Burgos
RA, Acevedo JC, Berbeo M, Feo Ó, Díaz R. Procedimientos neuroquirúrgicos
cerebrales guiados por estereotaxia realizados en el Hospital Universitario de
San Ignacio (HUSI): evolución a corto y mediano plazo. Universitas Médica.
;54(1). pp. 39–52. doi: 10.11144/javeriana.umed54-1.pncg
Riche M, Marijon P, Amelot A, Bielle F, Mokhtari K, Chambrun MP,
Joncour AL, Idbaih A, Touat M, Do CH, Deme M, Pasqualotto R, Jacquens A,
Degos V, Shotar E, Chougar L, Carpentier A, Mathon B. Severity, timeline, and
management of complications after stereotactic brain biopsy. J Neurosurg.
Sep 10;136(3):867-876. doi: 10.3171/2021.3.JNS21134. PMID: 34507289.
Quick-Weller J, Tichy J, Dinc N, Tritt S, Won SY, Behmanesh B, Bruder M,
Seifert V, Weise LM, Marquardt G. Benefit and Complications of Frame-Based
Stereotactic Biopsy in Old and Very Old Patients. World Neurosurg. 2017 Jun;102:442-448. doi: 10.1016/j.wneu.2017.03.059. Epub 2017 Mar 23. PMID: 28344180.
Cheng G, Yu X, Zhao H, Cao W, Li H, Li Q, Li Z, Yin F, Liu R, Zhang J.
Complications of stereotactic biopsy of lesions in the sellar region, pineal
gland, and brainstem: A retrospective, single-center study. Medicine
(Baltimore). 2020 Feb;99(8):e18572. doi: 10.1097/MD.0000000000018572.
PMID: 32080071; PMCID: PMC7034708.
Riche M, Amelot A, Peyre M, Capelle L, Carpentier A, Mathon B.
Complications after frame-based stereotactic brain biopsy: a systematic
review. Neurosurg Rev. 2021 Feb;44(1):301-307. doi: 10.1007/s10143-019-
-w. Epub 2020 Jan 4. PMID: 31900737.
Sato S, Dan M, Hata H, Miyasaka K, Hanihara M, Shibahara I, Inoue Y,
Kumabe T. Safe Stereotactic Biopsy for Basal Ganglia Lesions: Avoiding Injury
to the Basal Perforating Arteries. Stereotact Funct Neurosurg. 2018;96(4):244-
doi: 10.1159/000492057. Epub 2018 Aug 28. PMID: 30153687.
Lara-Almunia M, Hernández-Vicente J. Related factors with diagnostic
yield and intracranial hemorrhagic complications in frame-based stereotactic
biopsy. Review. Neurocirugia (Astur : Engl Ed). 2021 Nov-Dec;32(6):285-294.
doi: 10.1016/j.neucie.2021.04.004. Epub 2021 Apr 30. PMID: 34743826.
Terao T, Takahashi H, Yokochi F, Taniguchi M, Okiyama R, Hamada I.
Hemorrhagic complication of stereotactic surgery in patients with movement
disorders. J Neurosurg. 2003 Jun;98(6):1241-6. doi: 10.3171/jns.2003.98.6.1241.
PMID: 12816271.
Ward M, Ahmed M, Markosian C, Ezike JZ, Agrawal R, Randhawa K, Liang
Z, Abraham M, Paskhover B, Mammis A. Complications associated with deep
brain stimulation for Parkinson's disease: a MAUDE study. Br J Neurosurg. 2021
Oct;35(5):625-628. doi: 10.1080/02688697.2021.1935727. Epub 2021 Jun 20.
PMID: 34151665.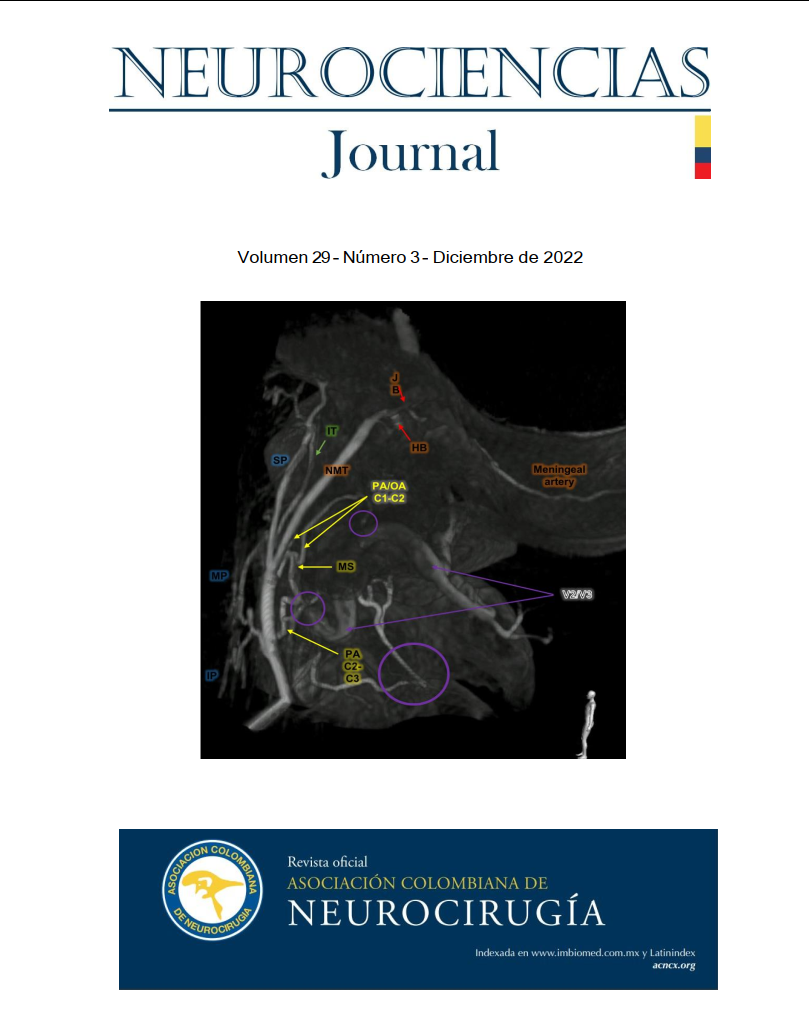 Descargas
Cómo citar
Duarte Mora, D. P., Serrato Perdomo , J. D. ., Vargas Rosales, A. F. ., Zapata Castro, J. C. ., Vargas Rosales , G. ., Rivero Cano , J. ., Rojas Romero , L. O. ., & Luque Suárez, J. C. . (2023). ACTUALIZACIÓN DE LA EXPERIENCIA DE CIRUGÍA ESTEREOTÁCTICA ENTRE LOS AÑOS 2000 Y 2022 EN EL HOSPITAL MILITAR CENTRAL, BOGOTÁ, COLOMBIA. Neurociencias Journal, 29(3), 9–23. Recuperado a partir de https://medcytjournals.com/index.php/neurocienciasjournal/article/view/390
Sección
Artículo de investigación
Licencia
Derechos de autor 2023 Neurociencias Journal
Esta obra está bajo una licencia internacional Creative Commons Atribución-NoComercial-SinDerivadas 4.0.